Teclados Industriais
Weather stations
Power Interfaces
Current Controllers
Instrumentation Signal Converters
Temperature Monitors
Analog Multiplexers
Power Interfaces > DC/DC Solid State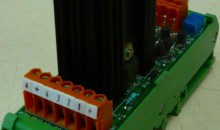 Solid state DC/DC
UD-A242TR: DC-to-DC interfaces, with four channels per module, capacity up to 2.0 A and protection against short-circuits, these modules are used to drive heavy loads by the digital 24-V outputs of the PLC. Mounts on DIN rail.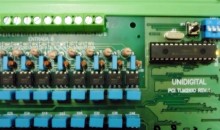 Fanuc / GE Fanuc CNC I/O Interfaces
These power interfaces are used with the 0i and Power Mate Fanuc CNC's, with 24 24-V DC inputs and 16 24-V outputs, 1.8 A per channel. Protection against short-circuit. Mounts on DIN rail and can be connected directly to the built-in I/O's.