Teclados Industriais
Weather stations
Power Interfaces
Current Controllers
Instrumentation Signal Converters
Temperature Monitors
Analog Multiplexers
Teclados Industriais > Teclados Industriais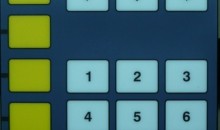 Industrial Keyboards
The industrial keyboards manufactured by Unidigital are suitable for a great number of applications: machine control panels, test and lab equipment, home appliances,
self-service, elevators, pass printers, coded access, interfaces with computer-base HMI's and many others.
The output format may be configured as either point-to-point, binary or serial RS-232C, RS-485 and USB.
Rugged and designed to operate under harsh conditions, our keyboards use 10-million cycles keys and overlays of excellent resistance to abrasion and chemicals. The front layer can be supplied according to the lay-out and symbols required by your project, with as many colors as needed for perfect readability and safety of operation.