Teclados Industriais
Weather stations
Power Interfaces
Current Controllers
Instrumentation Signal Converters
Temperature Monitors
Analog Multiplexers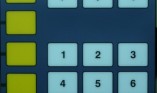 Industrial Keyboards
The industrial keyboards manufactured by Unidigital are suitable for a great number of applications: machine control panels, test and lab equipment, home appliances,
self-service, elevators, pass printers, coded access, interfaces with computer-base HMI's and many others.
The output format may be configured as either point-to-point, binary or serial RS-232C, RS-485 and USB.
Rugged and designed to operate under harsh conditions, our keyboards use 10-million cycles keys and overlays of excellent resistance to abrasion and chemicals. The front layer can be supplied according to the lay-out and symbols required by your project, with as many colors as needed for perfect readability and safety of operation.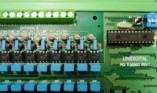 Power Interfaces
These modules are used to drive loads connected to the digital outputs of the PLC. Capable of handling loads up to 2.0 A, AC or DC, they are an ideal and low-cost solution for the protection of your I/O.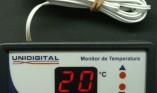 Temperature Monitors
Used to monitor the temperature of electric cabinets and other environment, these modules can be panel or rail mounted. Operating range from 0 to + 100 ºC, with 1 ºC resolution, programmable alarm relay and 0 – 10 V analog output. Low cost solution for the protection of your electronic equipment in the industrial environment.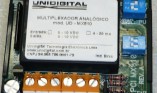 Analog Multiplexers
Analog multiplexers for a variety of applications to read several analog input signals (current and voltage) using only one analog input of the PLC.
Current Controllers
Specially developed to supply a DC current of up to 7.0 A according with an 0 – 10 V analog input, these controllers are suited for a wide range of applications such as controlling the magnetization level of grinding machines, excitation of high power DC generators, heating of cutting wires, among others.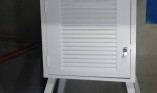 Stevenson Type Weather Instruments Shelter
The Stevenson Type Weather Instruments Shelter manufactured by Unidigital is built of treated and sealed fine wood to endure many years on the field without requiring maintenance. The shelter is supplied with a wooden mounting plate for instruments installation. Inner dimensions of the instruments cabin: 600 x 600 x 450 mm. Total height: 1890 mm. Other dimensions and configurations under request.
Signal Analog Converters
These modules perform voltage to frequency, current to voltage, voltage to current conversion. Requiring little room on the rail, they are robust and flexible. Models available:
a) 0 – 10 V / 4 – 20 mA converter, model UD-C10420;
b) 4 – 20 mA / 0 – 10 V converter, model UD-C42010;
c) frequency-t0-voltage or current converter, model UD-CFV110;
d) voltage-to-frequency converter, model UD-C450.
Please, send us your inquiries.