Teclados Industriais
Weather stations
Power Interfaces
Current Controllers
Instrumentation Signal Converters
Temperature Monitors
Analog Multiplexers
Instrumentation Signal Converters > Signal Analog Converters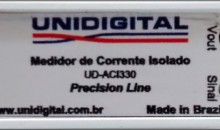 AC Current Measurement Interface UD-ACI330
The UD-ACI330 AC Current Measurement Interface was developed especially for measuring the AC current in circuits with motors, heating and others. Employing components from the best electronic manufucturers in the world and digital measurement technology, the ACI330 is a precise and robust module for the industrial environment.
The models UD-ACI330/01 and UD-ACI330/05 must be used in conjunction with a Current Transformer (C.T.) with secondary nominal currents of 1A and 5A, respectively. With this topology, any primary current flowing in the primary circuit can be measured with precision and safety.
On the other hand, the model UD-ACI330/20 can be connected directly to the current line with a maximum capacity of 13. Arms. In this case, no C.T. is needed.
The analog output signal provided by the UD-ACI330 is in the format of 0 – 10 V or 4 – 20 mA, being suitable for use with PLC's.
Please, read in the datasheet more application information about this product.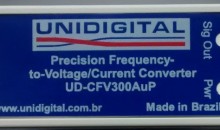 Frequency-to-Voltage Converter CFV300AuP Precision
The Precision Frequency-to-Voltage/Current Converter uses digital technology and is capable of converting ultra-low/low frequency signals, eliminating the ripple generated in conventional circuits. 0-10V or 4 – 20 mA output. The full scale range can be factory set from 10 to 100000 Hz. Excellent linearity and precision. Mounts on DIN rail.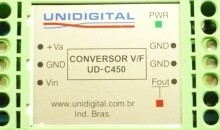 Voltage-to-Frequency and Current-to-Frequency Converter
The C450 is a voltage-to-frequency and current-to-frequency converter that generates a precise train of pulses whose frequency is linearly proportional to an input control analog signal.
The C450 may be employed to perform the following functions: a) Step-motor speed control by means of an analog signal; b) Transmission of analog signals over great distances by converting them previously to a train of pulses; c) Analog signals reading in fast digital inputs of PLC's and CNC's.
Potentiometric Transducer Interface
Potentiometric Transducer Interface
The Potentiometric Transducer Interface model UD-A440 was especially designed for isolate a potentiometric transducer from the analog input of PLC's/CNC's, avoiding the non-linear error caused by a direct connection. Besides linearizing the transducer response, the A440 supplies a very stable and precise reference voltage of 10.000 Vdc to make your measurements absolutely reliable.
SHORT-CIRCUIT PROTECTION: The 10.000 V reference voltage is fully protected against short-circuits, a situation that may occur if the is the cursor terminal is inverted with the ground terminal at the transducer.
HIGH SPEED RESPONSE: The UD-A440 responds with high speed to any position change of the transducer (up to 4000 m/s). Even the position of the transducer changes very rapidly, the output signal of the A440 will be precisely in phase with the analog voltage at the input.
0 – 10 V / 4 – 20 mA Converter C10420
0 -10 V to 4 – 20 mA converter model UD-C10420. Zero and span independent adjustment. It works with loads up to 500 ohms in the current loop. Linearity better than 1% full range. Voltage supply from 15 to 30 Vdc. Mounts on DIN rail.
4-20 mA to 0 – 10 V Converter C42010
4 – 20 mA to 0 – 10 V converter, model UD-C42010. Differential input with purely resistive 220-ohm input. Linearity better than 0,5% full range. 24 V supply. Mounts on DIN rail.